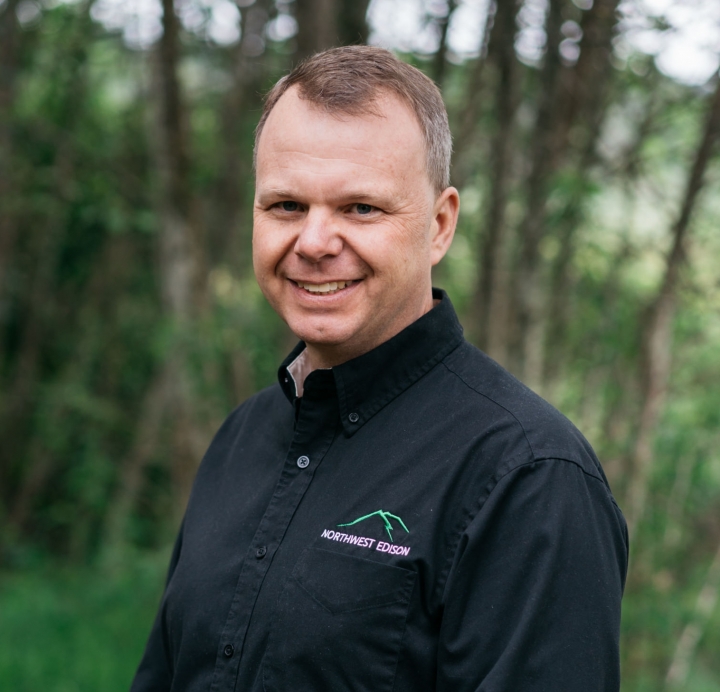 Randy Owen
Vice President
Bio
An outdoor enthusiast and a country boy at heart, Randy Owen has always been fascinated with lighting and the technology behind it.
Years of experience spent working in the electrical and lighting industry, Randy has become quite the connoisseur of project development. From federal to military to school contracts, Randy enjoys and gets a little excited at the challenges each new project brings.
Determination, a broad knowledge of the industry and his inquisitive nature about usable technology was the foundation Randy and his now retired father, Richard Owen, built Northwest Edison on. Great people skills and a genuine concern for the environment and conservation, Randy has used his strengths to expand and grow Northwest Edison into the company it is today.
Randy's ability to look for creative solutions, navigate the ebb and flow of construction and visualize the big picture, allows him to improve anything he gets his hands on. Whether it is a largescale lighting project or his daughter's bicycle, Randy excels in successfully completing every project.
Claim to Fame
Not one to let the grass grow under his feet, Randy's detail oriented nature and depth of character shows not only in the quality of his work, but his constant pursuit of excellence in everything he does. Passionate about developing new energy saving technologies, Randy's quest to advance energy conservation methods are what drives him to perfect every project Northwest Edison completes.
Although a bit of a lighting nerd and workaholic, Randy's coworkers, employees and friends know him as an honest, down to earth person that everyone respects and relates well to.
Important Facts
Randy met his wife and best friend while she was here studying as a foreign exchange student from Latvia. Together they are raising a beautiful family while creating wonderful memories.
When Randy isn't on the job, he enjoys spending time with family, gardening, fishing, hiking, riding dirt bikes, gold prospecting or just sitting in his wood-fired hot tub contemplating life. Randy's kids will tell you that their dad doesn't like beets or tomatoes, but that he does like building puzzles with them or chasing them down the ski slopes.
Quote
"The pessimist complains about the wind; the optimist expects it to change; the realist adjusts his sails."
- William Arthur Ward