Benefits of LED Street Lighting and Controls
Posted: Jun 15 | Author: Sinjin Anterola | Category: Street Lighting
Together, Northwest Edison, McKinstry and Puget Sound Energy (PSE) presented at the EMC conference about the benefits of upgrading street lighting and adding controls.
Owning and maintaining street lighting can seem like a never ending task. There is always something that needs to be serviced or repaired. HPS street lightings are becoming a thing of the past for many reasons, including the short maintenance replacement cycles they give, poor quality of light, expensive power bills, uncontrolled wire theft, and they are just becoming simply outdated and not up to the existing technology standards.
So, it's good to know that there is another option out there for your street lighting.
LED lighting and controls.
There are many benefits that comes with converting your lighting to LED, but to name a few:
Environmental – By upgrading to LED lighting you are reducing the amount of fixtures that end up in landfills. LED's have a 20 year life cycle whereas HPS has a 3-5 life cycle. It will also reduce greenhouse gas (GHG) though electricity savings and the fuel that the maintenance fleet would use. For an example, the reduction of power usage in the recently completed street lighting project in Bellingham WA is equivalent to 1.6 million pounds of CO2 reduction! Or even one of the following
126 vehicles removed from the roads
2.4 million miles not driven each year
18,000 light bulbs not energized per year (75w)
180 acres of trees planted
Economic – You will have significant operational and maintenance savings because of the longer lamp lives of LED's, and it gives you a chance to do a complete inventory of your existing lighting systems. Here at NWE, we have yet to see a city's current inventory be accurate before we complete ours.
Take a look at the graph below. This explains the savings you will have by installing LED street lighting. Again Bellingham was the example used, but after just 15 years the money you save on your energy bill pays off the project for you!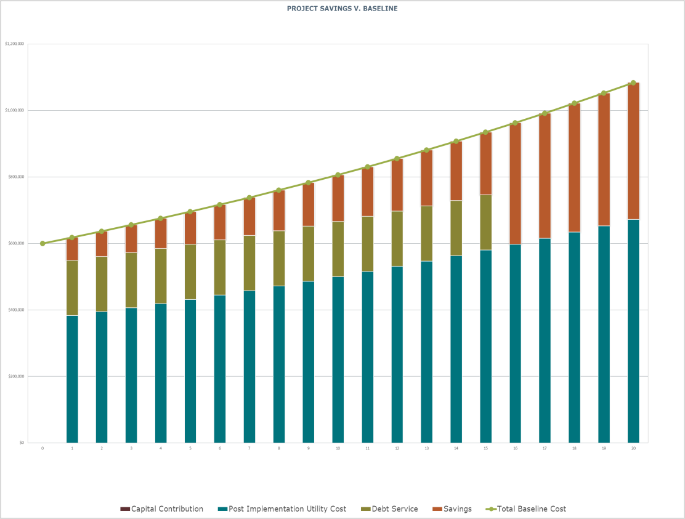 Political – Not only to these new LED lights and controls save you energy, but they also produce better quality light! HPS lamps give off a yellow glow, which makes it difficult for law enforcement to properly identify colors of clothing and vehicles. Often times many people always wonder where their city's money is going to, and with a project like this there is no doubt that the residents will notice the difference! Just check out these before and after pictures, the first one with HPS lighting you can't even tell that there is grass on the side. And with LED's you can see the true green color of the grass and surrounding objects.

So after reading this you might say that LED's look great, but why controls?
There are 2 main reasons for implementing an adaptive lighting controls system. The first is having the ability to monitor your lights. This means, you can view energy usage, generate alerts and data when you have a failure or malfunction, and have the necessary data on the fixture before you mobilize to make the repair. Secondly, through the course of the day, any street's road classification might change depending on the amount of traffic passing by. This means, that an arterial at 6:00pm can technically be classified as a quiet residential road at 2:00am, due to the lack of traffic. Being that the classification has changed, your lighting requirements for the road have substantially decreased. With an adaptive lighting controls system, you now have the ability to dim your fixtures to meet the road's requirement, during the hours of the reclassification and reap substantial energy/monetary savings. A lighting controls system also allows future expansion and integration of possible technologies. Here are a few ideas: cameras for analytics, WIFI, parking spot availability notifications and charging services. There will be many innovative ideas that will be surfacing in the future and you'll have the infrastructure to take full advantage!