GIS and the Lighting World
Posted: May 20 | Author: Sierra Camilleri | Category: Auditing
There are a few companies out there that offer their GIS capabilities for street and area lighting, but are not properly trained in lighting itself. Now does this make sense to you? Picture someone telling you to run to the grocery store when you're off work for dinner, but doesn't tell you what to get! You can guess based on past experience and maybe what you're in the mood for, but with how many options there are it's a gamble.
Northwest Edison is known for completing thorough GIS audits and lighting designs, so we take the guessing game out of your audit. We have auditors that know exactly what to look for when they are out in the field and document each detail into our GIS collecting equipment we OWN.
Example: Take a look at these two pictures below. Your average person would say they are the same when walking down the street, but they are completely different. Especially when you are auditing an entire city which can be around 5,000 – 15,000 street lights on average, lighting can all start to look the same to most. Without noting this in the audit the incorrect retrofit would have been ordered. Only an expert in lighting would notice these details.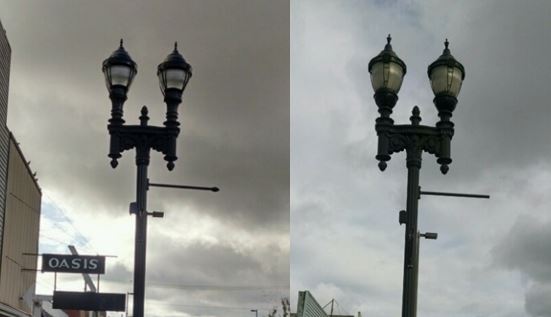 We have the GIS software to reconcile and to design lighting, but when it comes to audits we use the best handheld technology out there, which is not collecting on an iPad. Unfortunately some companies do collect street and area lighting on their iPad. I mean it works… but it's not as accurate as they could be. If you're going to pay to have your street lighting audited, would you settle for just an OK job?
If you have a company who doesn't know about street lighting, and uses a software that will only get you within meters of your pole location it's not going to help you with any future growth. You might be thinking okay... 2-5 meters off isn't bad, but imagine how this will look downtown. Your poles may show up around a corner, on top of a building or in the middle of the road. Which happens a lot more than you think.
Trust Northwest Edison with your GIS audit and you will not be disappointed. Once we are complete, you will want your new information to be able to last for a long time and be used for many different assets. We strive to collect the best information keeping in mind new technology down the road that our current audit will be helpful for. Such as street lighting controls, new construction and solar projects.
Want to learn more about what GIS auditing is and how we do it? Check out our GIS and Mapping Page.